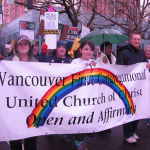 The state legislature is now considering a bill that would make marriage equality a reality in the state of Washington. You can help make this happen by joining "The Love for All March for Marriage Equality." This march will take place over the course of seven days from February 9th to the 15th as marchers walk over a hundred miles from Vancouver to Olympia. This distance will be conquered with teams of walkers of all abilities.  While teams of walkers are sill needed, we would especially love to have people from Olympia join us for the final part of the march as we conclude with a rally on the steps of the legislative building.
We will gather at United Churches of Olympia at 4 pm on February 15th to walk the last few blocks before holding our rally from 4:30 to 5:00 pm. If you are interested in joining us as we march or as we rally, please send an email to MarriageMarch@gmail.com.
This is event is being sponsored by Equal Rights Washington, the Religious Coalition for Equality, the Faith Action Network, and the Community of Welcoming Congregations.